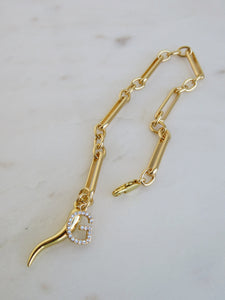 Handcrafted one piece at a time...the personalized bracelet with symbols of protection and uniqueness. A true piece of wearable art that has the ability to empower and protect your beautiful soul. 
SYMBOLS & MEANINGS
Symbols serve as a reminder that everything you want is already within you and they bring positive energy to your soul and protect us from negative energy in the body
The Italian horn/ Cornicello 

can be worn by anyone, regardless of their cultural background or heritage. The Italian Talisman amulet is widely recognized as a lucky charm, symbol of

good luck, protection, and prosperity. 
The letters symbolizes the uniqueness of the person or soul it represents 
DETAILS
Select one letter to personalize your bracelet (write your letter in the box) 
Select your bracelet size.
Size is approximate due to the size of the links. 

16K Gold layered Figaro link bracelet  
15mmx8mm

Diamond Letter 

- gold plated 
18k Gold Layered Italian Horn 22x7mm
Cubic Zirconia Diamonds   
SHIPPING DETAILS
Please allow 7-10 business days for your handcrafted bracelet to ship
Shipping one bracelet USPS First Class within the 48 united states is on average $5 - $10, Alaska and Hawaii can be calculated at checkout. 
Woman Owned Business 
Handcrafted in New York by Erin Suarez