BOUTIQUE SUAREZ CO.
 NEW YORK
Handcrafted jewelry designed and styled with purpose to empower your beautiful soul.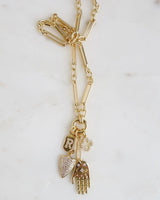 Personalized Charm Cluster Necklaces
Personalized jewelry…Handcrafted and unique just like you!
Charm Cluster Necklaces
"When you hear the jangle of your pendants touching one another, it's a beautiful reminder of the symbolism each chosen piece holds."
- Erin Suarez 
We Manifest What We Think About...
what we keep in our vision. The awareness influences our decisions. 
Empower your beautiful soul with symbols of love, protection, intuition and an abundance of positivity to bring you peace of mind.
We are one with the universe. By looking into the heavens, we learn about ourselves. Life is full of beautiful possibilities. Time to embrace them! 
- Zodiac Collection
SYMBOLIC CLOVER BRACELETS
The perfect meaningful gift, a universal symbol of love, luck, hope & faith and is said to bring good luck to its wearer - set your intention and let the good vibes flow
"Empower your Beautiful Soul through Style!"
STYLED NECKLACE STACKS
Chania Evil Eye Necklace styled with the Personalized Symbolic Zodiac Charm Cluster Necklace - Figaro Link
Designed & Styled to Empower your Beautiful Soul!
NECKLACES